TRAINS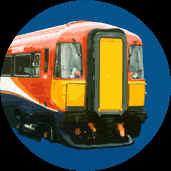 Have you discovered the on-line timetable? Just type in where you want to go, and when you want to get there, and you'll get a journey plan in a matter of seconds.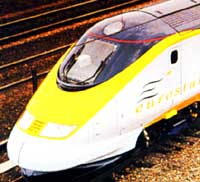 Train-travelling's so civilized: when things are going your way it's the quickest, most fuel-efficient, most enjoyable means of getting around that there is. Sometimes it's cheap too. Before they tightened up on child-fares, we took the children to the North of Scotland for £2.00 return each (for the Millennium Hogmanay) – that plus a £15 supplement for sleeper berths. where can you find a hotel that cheap?
And several times I've been to central and southern Europe by train. Lunch in Woking, Dinner in Paris, Breakfast in Venice is my favourite first leg. The last time I went to Zagreb I paid just over £200 return – and on the return leg I had a day in MŁnchen and lunch in Brussels, all in the return ticket. The one nuisance is that it's so hard to book tickets: every high-street is packed with agents trying to sell you gas-guzzling air-tickets to overcrowded beaches ... but can they sell you a train ticket to Trieste? I (highly) recommend Seat61.com for planning a journey (or just armchair-travelling), and perhaps TrainsEurope for buying the ticket you want – but there are plenty of alternatives to that.
Back in this country, the railways are still struggling to move on from the bungled privatization imposed by the government a decade or so ago. Perhaps one day the cutbacks will even be reversed, and lines re-opened? Some of us haven't lost the vision: RailFuture continues to campaign for this, and local groups champion their own pet projects (and mine): the Wealden Line for the re-opening of the Uckfield to Lewes Link, for example. Preservation Societies have sprung up all over the place too, some of which have serious long-term ambitions – the Gloucestershire & Warwickshire Railway for example (spot the initials!) to reopen a southern route to Stratford-upon-Avon.
Finally, have you been to the National Railway Museum in York?


page revised November 2005