BOSNIA & HERZEGOVINA

Since we welcomed a number of Muslim refugees into our homes and lives a few years ago during the Bosnian war, we've built up some lasting friendships and have come to share, in a small way, their concern for friends and families left behind in Bosnia – many of whom are still suffering significantly from the war in which they lost homes, jobs and almost their lives.
I've now been to Bosnia several times. One of those times, a few years ago now, was with a couple of fellow church-members from Brookwood. Part of our visit was to Brcko, about which we reported as follows (nb the information is now out-of-date):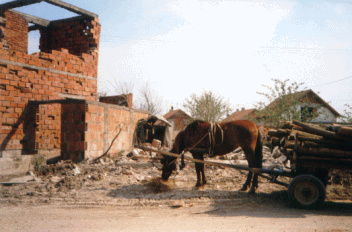 horsepower helps with the rebuilding in Brcko
Since the war of a few years ago, Bosnia has in effect been divided into two halves, the Muslim/Croat Bosnian Federation and the Serb-controlled Republika Srbska. Scene of bitter conflict during the war, Brcko is the only area not yet officially allocated to either faction. Serb refugees have flooded into part of the town, while on the western fringes, Muslim families are returning to rebuild their shattered homes. We visited some families there, and saw just how much there is to achieve. UN funding means that most houses now have roofs again, but for the first family we visited (parents of some friends of ours in Surrey), there is still no power, water or sewerage, and only part of one room is habitable yet. We plan to offer help first at an individual level, then through the Muslim charity Merhamet, and eventually (we hope) through local evangelical Christians. Our first opportunity is to help the Muslim community with whom we already have contact; in time we may be able to help Serb refugees also.
A continuing link is with a language-school in Tuzla: ... to be continued
Bosnian radio stations ... Radio Slon in Tuzla

John's Homepage John & Liz's Welcome Page


page revised December 2003