John Partington's Beer Page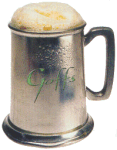 I belong to the Campaign for Real Ale. I'm always glad to swap news of decent brews, and for starters can recommend our local brewery here: Goff's. Their session bitter is 'Jouster', and very tasty it is too. They have a good ear for beer names: most of their range are named after knights ('Black Knight', 'White Knight' etc), and to celebrate the proprietor's new baby they brewed a 'Sleepless Knight'.
I still miss the beer back in Surrey, not least my erstwhile local brewery, the Hog's Back Brewery in Tongham. Their TEA (Traditional English Ale) is surely the best beer in the country. And the best place to drink it is the Royal Oak in Wood Street Village: their unpretentious home-cooked food is as good as their beer – and that's saying a very great deal. Mind you, our second-nearest brewery was just about as good: the Triple fff Brewery at Four Marks. I was particularly fond of their mild, 'Pressed Rat & Warthog'. We had a drinking group when I was in Woking – BRATS (the Brookwood Real Ale Travelling Society), which started when I was researching for my booklet Pubs by Train from Brookwood.
"I drink to make other people interesting"
George Jean Nathan
There are various listings of decent brewers, beers and pubs on the web. One that I've found particularly useful is the Directory of UK Real Ale Breweries.
Finally, everyone needs something to live for – and I've decided to drink at every pub in the country called the 'French Horn'. I've visited the one at Alton in Hampshire, and (years ago) one on a canal in the Midlands: can you help me remember where it was? If you know of others, please let me know!

John's Homepage John & Liz's Welcome Page

page revised February 2004